What Our Customers Are Saying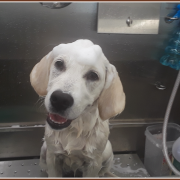 We have known Donna since 1997 when our first Golden Retriever, Sheena, was a puppy. She was working with a groomer in Castro Valley. Shortly thereafter, she went into the mobile grooming business on her own and, of course, we followed her.
When Sheena was called to the angels, we got Fluke, our second Golden Retriever, for which she gave the same gentle, loving care, making him look so "handsome." She is now making Dusty, our third Golden Retriever puppy, look like a beautiful little girl.
Her care with pets is so gentle, loving etc. along with giving excellent "coifs." She is meticulous not only with her grooming skills but also with her attention to detail in scheduling appointments and keeping her word and commitments. Without a doubt, Donna is the BEST!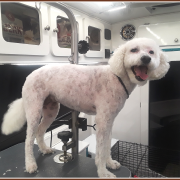 "We have been incredibly pleased with Donna's grooming service, she is kind, professional, reliable and knows what she's doing-and she does beautiful work!
Our dog, Coconut, is a rescue dog whose past made her timid, shy and scared of other dogs and new situations. When we brought her to other dog groomers, she would panic, shake, and be absolutely miserable, it was truly traumatizing for her. It always took her a couple of days to recover and be trusting again.
The convenience of having Donna come to our home and treat Coconut gently and compassionately is huge. There are no other dogs around to scare Coconut and she quickly recovers from her grooming experience. Not to mention the convenience for us to not have to drop her off or pick her up from a groomer."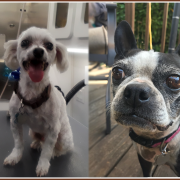 We LOVE Donna!! My girl Maggie had always been very scared to have her nails trimmed. Donna is great with her, she's in and out before you know it, and Donna is helping her over come her fears nail by nail, treat by treat! She also does a terrific job with our little Maltese, Dude! He's a wiggly little guy but his hair cut always comes out just the way we request! Plus you can't beat the fact that she comes right to your home! Grateful for Donna in our lives!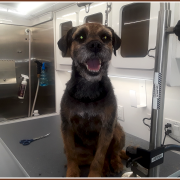 Donna has been my dog's groomer for nearly five years. His coat can be difficult to manage, but after his appointment he is always quite handsome and I'm so happy with her service, as is my border terrier Albert. So convenient, right at my doorstep…I've got a clipped and cleaned dog in no time flat. Would highly recommend Donna to anyone!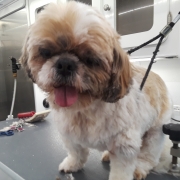 Donna has been our dog groomer for more than 10 years. Our dog always looks well groomed when she finishes. Donna is a kind, gentle and caring person, who treats our dog like she is her owner. We would'nt want anyone else to groom our Shuh Tzu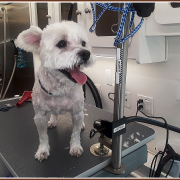 Donna,
You have contributed greatly to Shiro's happiness and health, and ours as his owners, over many years.  Thank you so much for your caring and satisfying service!
Sincerely,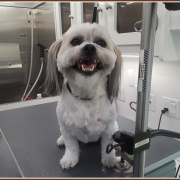 We have been using Donna's Mobile Pet Groomers for over 10 years now! We LOVE Donna! She is so friendly, caring and compassionate with our animals. She truly makes her clients priority #1. She was providing her services to our elderly Shih-Tzu "Jazzi" for over 8years until our girl of 17 yrs pasted away. Since we expanded our family again two years ago, Donna has been providing her amazing services to our energetic bubbly Shih-Tzu "Chloe". No cages or crates to be had like other grooming services and Donna brings her services to your door step….priceless! The Irby family animals will be clients for life????
Sincerely,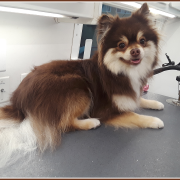 My name is Joanne, Donna has been grooming my dogs for over 15 years. She always does a great job! My dogs just love her. It is so convenient to have a mobile unit come to your house. My dog gets only her attention. In standard salons it's not one on one. She always sends me a reminder of the upcoming appointment, I appreciate that as we live a busy schedule and I always want to be available for my dog's appointment. I trust her so much that a few times I wasn't available to be home I gave her the code to enter my house. If you or someone you know is looking for an awesome groomer look no further!! Sincerely a very satisfied customer.  🙂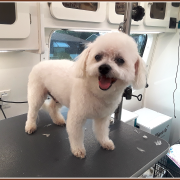 Donna has groomed Smokey for at least 14 years now, she used to groom my other dog named Snowy. He was very elderly and Donna took very good care of him. She continues to take great care of Smokey and I trust her completely. I would highly recommend Donna to anybody.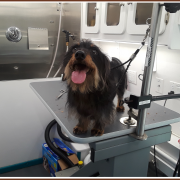 I have been a customer of Donna for more than ten (10) years.
When I started with her I had Scooter, a small Wirehair Dachshund. She groomed him monthly for seven + years until his death in January 2014. She now grooms my new dog, Woody, another small Wirehair Dachshund.
I have found Donna to me a sensitive, kind, caring & patient person with my dogs. She is gentle & loving in her handling & care of them.
Donna is a capable, competent business woman. She is reliable, efficient & on time. I believe her rates are more than reasonable for the work involved & distance traveled to do her job.
I recommend her highly as an outstanding groomer & her mobile service is one of a kind.