"My goal as a professional groomer is to provide a safe and calm environment for your pet. In order to make sure your pet feels safe and calm – kindness and gentleness is a must. Safety and kindness are very important qualities to practice in order to do an excellent job."
My Story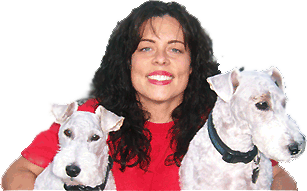 I became interested in pet grooming at the age of 15. Our family dog Mugs would leave our house dirty, stinky and filled with knots and come home from the local pet groomer's looking like someone had performed magic on him. His transformation always fascinated me to the point that I decided as a teenager that making animals look and feel good was something I wanted to learn.
The local pet groomer, Judi, first hired me as a bather. Judi taught me all the basics of pet grooming: how to bathe and dry thoroughly, brush outs, knot removal, nail clipping, ear cleaning, paw trimming and more. Judi had a reputation for the best grooming in the area and was very strict when it came to approving a clean animal. If there was one speck of dirt or one knot, the job had to be done all over again. I would often stay after work to watch the pet groomers give the animals their cuts. Because Judi saw that I had a real interest in the grooming, she soon taught me how to groom as well. I never had to go to a grooming school, volunteer or pay for my pet grooming education. Judi, one of the best pet groomers in the business, taught me everything she knew.
Once I moved to Alameda County, I worked for several different groomers for the next five years. It wasn't until I found Katina that I was truly able to come into my own as a pet groomer. Katina treated me as an independent contractor. She required me to set up and fund my own grooming business complete with business cards, advertising, insurance, a phone line, grooming supplies and most importantly, clientele. I had to build my business – my customers had to ask for me or call my business phone line in order for me to get their grooming jobs. After being with Katina for four years, the opportunity arose for me to drive a mobile grooming van for a colleague during her maternity leave. I decided it was time to grow my business and worked for Alicia for two years before finally qualifying to buy my own van.
I have been the proud owner of Donna's Pet Grooming since 2003. I specialize in mobile pet grooming.
I come to your home and your pet, instead of taking your pet out its comfortable surroundings. I have more than 32 years of pet grooming experience and find that I still love being with animals as much as I did when I first started out. I look forward to going to work, and always feel good about making a difference.
Over the years I have been blessed to work with people who have helped me learn my craft and build my business, so that I could achieve my dream of becoming a business owner. To give back to the community that has helped me get where I am today, I have partnered with the non-profit organization Feeding Pets of the Homeless, whose mission is to help feed the pets of homeless or disadvantaged people. For more information about Feeding Pets of the Homeless and how you can help this very worthy cause, please click here.
Licensed | Bonded | Insured | Certified | CPR Trained
---